Lambert Avenue Utility Upgrades
City of Nanaimo
Nanaimo, BC
Completed 2019
The section of Lambert Avenue between Sixth Street and Fifth Street was identified for upgrading of underground utilities and road reconstruction. This project included 500m of 200mm dia. PVC watermain, 450m of 200mm dia. PVC sanitary sewer, 590m of 375mm dia. PVC storm sewer, and 4,400 square meters of road reconstruction.
This project included a challenging section of sanitary sewer replacement at 6m deep, and conversion of the existing open ditch drainage system to a formalized underground storm sewer, complete with separated sewer services to each lot.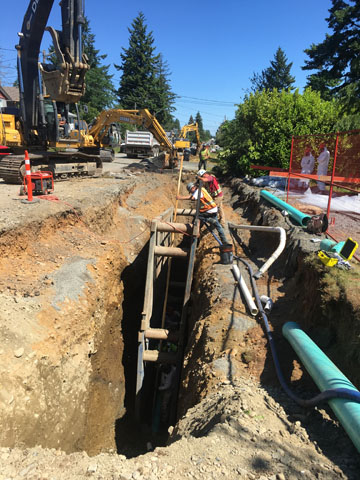 Construction Cost

$1,500,000
All Projects
Koers & Associates Engineering Ltd. is proud of Lambert Avenue Utility Upgrades. See more completed projects like this on our projects page!
View All Projects